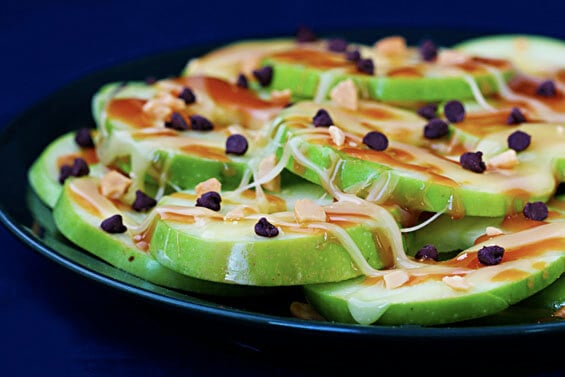 Ok, the name sounds funny and kinda strange, but the outcome is seriously YUMMY! The key is the tartness of the apples...and then you add the dimensions of the carmel and marshmallows, and boy you've got a delicious treat on your hands!
4 medium tart apple (I used Granny Smith), peeled, cored and sliced very thin

1 jar caramel sauce (or melt together 36 caramels and 1 Tbsp. water in microwave)

1/3 cup chopped peanuts or raisens

1/3 cup miniature chocolate chips
After slicing the apples, immediately dip them in lemon juice (or give them a good sprinkle) so that they do not brown. Set aside.
In a large saucepan, melt marshmallows and butter over medium heat, stirring frequently. Remove and set aside.
Arrange apple slices on a large platter. Drizzle with caramel, and then with the melted marshmallow mixture. Sprinkle with peanuts and chocolate chips. Serve immediately while the caramel is still warm.